Therapain Plus - Penetrating Roll-On Formula for Rapid Pain Relief Plus 14,000 Mg of MSM and Glucosamine
Sale price
$24.95 USD
Regular price
$39.99 USD
Unit price
per
PENETRATING FORMULATION GETS DOWN TO WHERE YOU NEED IT MOST!
10 Xs THE CONCENTRATION OF TOPICAL MSM AND GLUCOSAMINE
SOOTHING AND COOL SENSATION FOR LONGER LASTING RELIEF!
ROLL IT ON AND THE PAIN IS GONE!
DIRECTLY TARGETS YOUR PAIN!
NO SIDE EFFECTS OR DRUG INTERACTIONS
WORKS WITH YOUR ALL FORMS OF THERAPY TO ENHANCE YOUR RESULTS!
ALL NATURALLY DERIVED FORMULATION WITHOUT THE SIDE EFFECTS!
20 YEARS OF TRUSTED PAIN RELIEF WITH OVER 1 MILLION BOTTLES SOLD!
TRUE PAIN RELIEF THAT NATURALLY PROMOTES THE HEALING SLEEP AND JOINT FLEXIBILITY NEEDED TO LIVE THE ACTIVE LIFESTYLE YOU DESERVE!
Therapain Plus offer a natural way to get deeper penetrating rapid relief for your pain, along with greater mobility and better quality healing sleep thanks to its CLINICALLY PROVEN NATURALLY PENETRATING PROPRIETARY FORMULA THAT ADDS 14,000 MG OF TOPICAL MSM AND GLUCOSAMINE TO ENHANCE THE ABSORPTION AND EFFECTIVENESS. Use Therapain Plus on the neck, lower back, upper back, hip, leg knee, calf, foot, ankle and toe, finger, wrist, elbow, arm and shoulder areas, as well as specific areas like the Plantar Fascia, Achilles, Carpal Tunnel, Piriformis, SI Joint (Sacro-Iliac Joint, TFL (Tensor Fasciae Latae) and other specific muscle and joint areas. DOCTOR TESTED AND PROVEN SUCCESSFUL! After testing over 100 different topical pain relievers in his practice, Chiropractor, Dr. Rick Swartzburg found Therapain to be by far the most effective formulation to help not only his patients, but his own wife who was having no success taking various medications for her Fibromyalgia and needed something that could relieve her muscle pain without the further use of drugs that could interact and cause side-effects. When Therapain worked for her, he further enhanced the formula to come up with Therapain Plus and thanks in part to her success, as well as the hundreds of patients he personally worked with that had similar results, he made he made it his mission to help bring Therapain to people around the world. DIRECTLY TARGETS YOU PAIN! Therapain Plus give rapid relief from the symptoms of most common aches, pains, sprains, strains, arthritis and other joint, muscle, and tendon inflammation and painful conditions.  Therapain Plus is designed to increase your body's flexibility and allow you to enjoy the active lifestyle you desire. It accomplishes this by using natural Menthol to increase blood flow to the area, temporarily relieving the symptoms of most common aches, pains, and discomfort in the back, neck, shoulders, elbows, hands, hips, knees, feet, ankle wrist, fingers and toes. FORGET THE STICKY CREAMS AND MESSY BLUE GELS! Sticky creams and messy gels contain larger molecules that block penetration, whereas the liquid formula of Therapain absorbs faster and deeper. You can see the difference for yourself when you wash your hands after applying creams and gels
The all naturally derived ingredients are as follows: Natural L-Menthol: 2% Concentration, Deionized Water, Isopropyl Alcohol, methylsulfonylmethane (msm) and glucosamine sulfate (12.5% min. concentration) Oil Of Peppermint Oil of Eucalyptus, Proprietary Skin Conditioner.
Share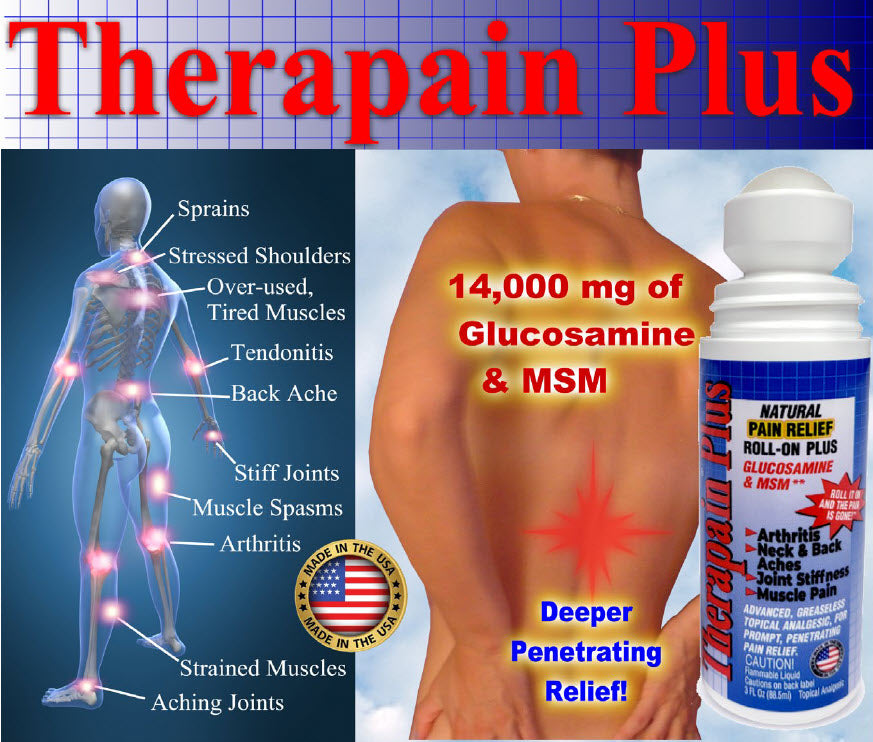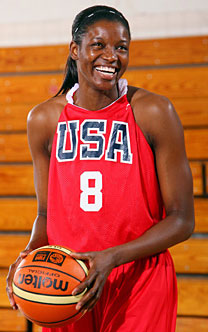 "Being a professional athlete you put a lot of wear and tear on your body. I have tried so many different products to help with the pain I might have in my knees or legs. I did some research and found Therapain Plus and ordered a bottle. I used as directed and my pain and tendonitis I had decreased and went away. I use the product as an everyday part of my training regimen I just can't go a day without it."
-Delisha Milton-Jones
"Therapain Plus took away my pain as fast as 1-2-3, gave me lasting relief, was totally painless and even smelled really good!"
-Herb Mitchell, actor and former spokesmen for Dean Witter
A Doctor's Perspective
"I searched for years to find a topical pain reliever that works fast, penetrates deep, made from natural ingredients, feels and smells pleasant, and includes Glucosamine and MSM. This product not only meets these high expectations, but is actually better than I ever imagined! The response from my patients that have used this product is so overwhelmingly positive, that it has prompted me to include it in virtually all my treatment regimens."
-Dr. Rick Swartzburg, D.C.